According to statistical studies, the number of melanoma cases is increasing worldwide. As survival depends on the depth of the tumour at diagnosis, early diagnosis of melanoma remains one of the most important goals in improving patient prognosis. For a long time, the investigation of patients for melanoma has relied on a combination of clinical examination and dermatoscopy. However, in patients with a large number of nevi, early detection of new or old lesions is sometimes difficult. Monitoring of skin lesions (mole mapping) facilitates the visibility of the patient's moles by making the process of assessing changed and new moles dynamic, objective and precise. 2 main technologies are used:
Whole body mole scanning.
Digital video dermatoscopy of skin lesions.
These technologies improve the early diagnosis of melanoma and reduce the frequency of unnecessary surgical interventions.
We are the first in the Baltic States and in Eastern Europe to investigate abnormal moles and suspicious skin tumours with the world's most advanced digital video dermatoscopy equipment – HORUS – and the FAV method (fluorescent video microscopy of skin lesions). You can read more about the FAV method and its potential for the diagnosis of skin tumours and other skin diseases in the FAV method section.
The images taken become a reference point for the future detection of new skin lesions or the evaluation of older ones for subtle changes. If abnormalities (e.g. asymmetric enlargement, focal changes in pigmentation and texture) are detected during follow-up visits, it is recommended that the lesion is removed.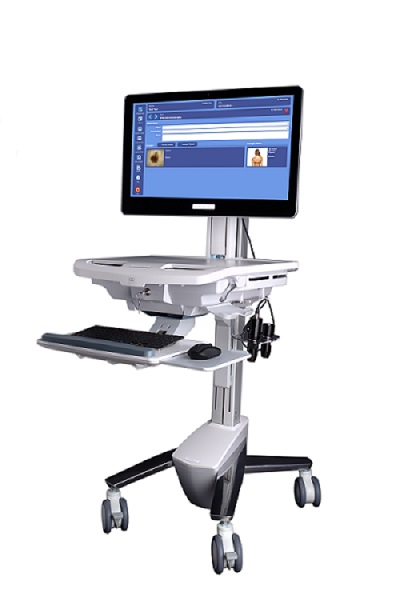 Whole body mole scanning, tracking (mole mapping)
Monitoring of nevus changes is a specific preventive programme for patients at increased risk of developing melanoma during their lifetime. Its main components are:
Skin examination and digital video dermatoscopic examination of moles;
Full body skin scanning;
Detection of new skin lesions and old moles during regular follow-up visits;
Secure database.
Why is mole mapping recommended?
People with many moles (50 – 100 moles).
Those with dysplastic, atypical moles (enlarging, irregularly shaped, uneven colour).
In the case of moles on the back, where it is difficult for the patient to observe them regularly on their own.
Previous cases of melanoma.
Family history of melanoma.
For fair-skinned people who have had several sunburns or at least 1 very severe sunburn.
When specific moles or other skin lesions are suspicious (unusual appearance, recent lesions).
For which lesions is digital video dermatoscopic examination recommended?
Suspicious skin lesions are those that show signs of melanoma or other forms of skin cancer (e.g. basal cell carcinoma, squamous cell carcinoma). It is also characteristic that malignant skin tumours tend to grow over time.
The main features of melanoma are defined by the ABCDE rule and the Glasgow 7 criteria. This is a useful guide, but it is somewhat more difficult to follow in the case of a particularly early stage or atypical form of melanoma. Moreover, not all lesions with these features are melanoma, and most are not life-threatening.
ABCDE rule:
A – Asymmetry (colour, shape, contour, relief, etc.).
B – Irregular edges.
C – Uneven colour (>3 colour combinations).
D – Larger than 6 mm.
E – Evolution (increasing, other parameters changing).
Glasgow 7 criteria list:
Large:
Changing size.
Irregular shape.
Uneven colour.
Small:
Larger than 7 mm.
Signs of inflammation.
Urination.
Sensory abnormalities.
Non-melanoma skin malignancies (also known as keratinocytic skin malignancies) are much more common than melanoma. They are characterised by progressively enlarging skin lesions covered with scabs, ulceration and bleeding.
If you are worried about a new skin lesion, or if an old lesion has started to enlarge or has changed in appearance, do not hesitate to consult your doctor. Your doctor may recommend surgical removal of the lesion with histological examination, regular follow-up visits, video dermatoscopic examination of the mole and monitoring of the skin changes, and referral to another specialist (e.g. a surgeon), as required.
Disadvantages of Mole mapping:
Sometimes melanoma can occur in hard-to-see areas of the body, such as mucous membranes, the scalp and near the genitals.
Early melanoma and other skin cancers can look like benign skin lesions and can therefore be misleading.
A benign lesion may resemble melanoma, resulting in unnecessary surgical intervention.
Melanoma can grow very quickly (especially nodular melanoma), sometimes reaching a dangerous size without even a follow-up visit.
What are the advantages of mole mapping?
Mole mapping aims to detect melanoma at the earliest possible stage by detecting new pigmented skin lesions or by registering lesions in older moles. Seeing the lesions clinically and using a digital video dermatoscope only makes the suspicion of melanoma even stronger.
The main advantages of mole mapping surveillance are:
Based on previous images, it is possible to determine whether a suspicious skin lesion is new or an old lesion that has started to change.
If the doctor determines that the lesion needs to be removed, indications for removal are usually identified at the earliest stages, thus significantly reducing the risk of melanoma and the extent of surgery.
If it is a new lesion (or an old lesion that has started to change) but does not yet have an indication for removal, it is photographed and monitored.
Skin lesions that have no structural changes and that do not change over time have virtually no risk of melanoma and do not require medical removal. This reduces the patient's costs, the risk of interventions and complications.
Reassurance for the patient and his/her family doctor.
If you have decided to undergo mole mapping, choose our centre because:
You will receive all the services included in the procedure package.
You will be given detailed information about the procedure, its advantages and disadvantages.
You will receive a detailed consultation, especially regarding future follow-up visits and the necessary treatment.
If you are worried about any skin lesion, or if you are at increased risk of skin cancer, do not hesitate to book a consultation at our centre.